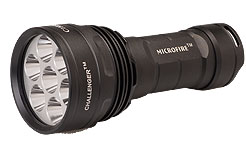 HID / LED Flashlight (L500G)

The Challenger L500G Flashlight

Microfire® Challenger L500G weapon light produces a blinding beam up to 900 lumens for 60 minutes with an effective beam throw over 400 yards batterfield forward. Mounting to shotgun, L500G is the illuminator at lower beam state for door breaking-into, then switch to full beam to overwhelm resistance of opponents in 40 yards. Rugged aerospace-grade aluminum CNC machined body, hard anodised finishing, O-ring sealed, high transparency optical lens, compact size, light weight and long runtime make it a good illuminator for your gun.